Staun's Tyre Deflators are a well known 4wd after-market accessory, wholly owned and manufactured in Australia. The innovative deflators have proven a huge success and are now available throughout various 4WD accessories stores Australia wide, and are increasing their international presence.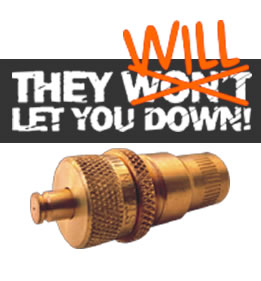 The patented and trade marked Staun Tyre Deflators are the ORIGINAL and the BEST! They have proven time and again to be the easiest and most accurate way for decreasing tyre pressure and improving your off-road performance. Staun Tyre Deflators promise high quality and are considered by many professionals to be the superior product on the market.
Staun has created the original and the best 4WD off road product. The superiority and quality is proven to be second to none: so beware of inferior, ILLEGAL cheap imitations. Buy only the best, ask for STAUNIES!!!!
The tyre deflators are simply screwed onto each tyre valve stem doing all of the work for you! All you have to do is take them off your tyres when they stop deflating and you're set to go off-road!The Staun Tyre Deflators can be used for all types of four wheel driving ranging from coastal sand driving, desert sand driving and rock climbing to mud driving. The standard tyre deflators are supplied at a preset pressure of 18psi, but this pressure can be adjusted to your desired level. How much you reduce your tyre pressure depends on a variety of factors, such as how muchweight your tyres are supporting and the softness of the surface that you will be travelling on.

Benefits of Deflating
There are several benefits of deflating your tyres to a lower pressure that extend beyond generally improving your vehicle's overall performance.
Increasing your vehicle's traction
Minimising environmental disruption
Improved ability to travel on softer surfaces
Reducing resistance to obstacles
Improved fuel economy